The CS Track project is broadening our knowledge about Citizen Science by investigating Citizen Science activities, disseminating good practices and formulating knowledge-based policy recommendations. Find out more.
Citizen Science in Europe, as elsewhere, continues to manifest itself in a variety of different ways. While attracting interest across multiple sectors of society, its definition remains unclear. The first CS Track White Paper on Themes, objectives and participants of citizen science activities has just been published and, along with the initial results of the first large scale survey into participation in citizen science, provides an important overview of who participates in citizen science projects and what motivates them. This short report focuses on one aspect that emerges in this white paper.
Citizen Science Participants – who are they?
Participants and who they are, have a significant impact on the objectives and outcomes of citizen science projects. However, existing information on the demographics of participants in citizen science projects is very limited and most studies have focused on a single project or programme. Furthermore, certain groups, like young people, are underrepresented in the available data.
What our research team has gathered from the literature and the initial results of the CS Track large-scale survey is the following:
Well-educated, affluent participants outnumber less affluent participants,
More men than women take part in many of the programmes that have been analysed.
Citizen scientists seem to be white, middle-aged, scientifically literate or generally interested in science or scientific topics.
Scientists, academics, teachers, science students and people who have a passion for the outdoors are among the groups of people most likely to take part in citizen science.
In agricultural, biological and environmental science-based programmes, participants are often scientists themselves, science teachers or students, conservation group members, backpackers or hikers or other outdoor enthusiasts – in other words people who care about nature.
Community and youth citizen science projects are underrepresented in the available data.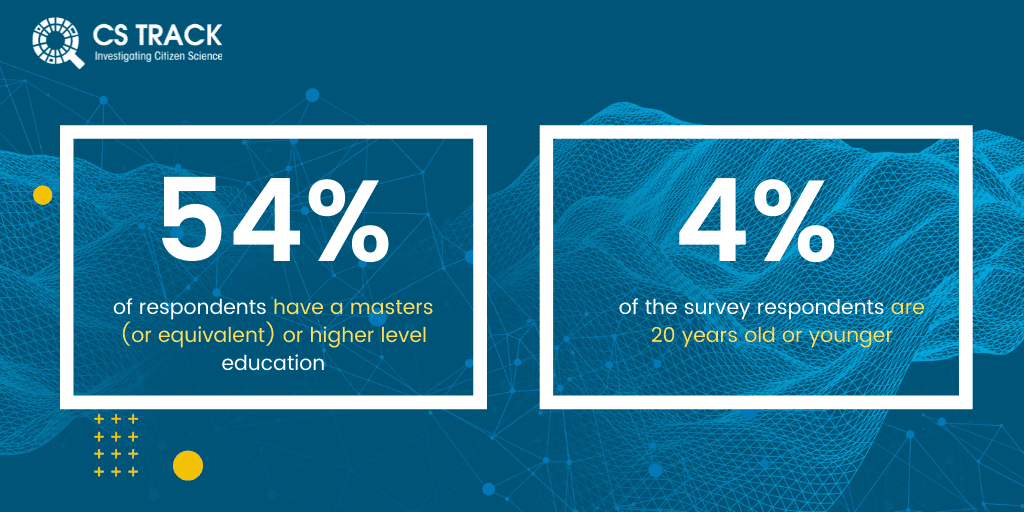 It is worth highlighting that this underrepresentation of certain groups and demographics is not consistent with a democratic approach to science.
Citizen Science Participants – what motivates them?
The reasons why people take part in citizen science projects are many and varied. For many participants, the reasons are related to general interest in the theme or topic, a desire to help and personal growth.
According to initial findings from the survey, the most important factors are interest in the theme and topic, contributing to scientific research and opportunities to learn. The least important factors are rewards and potential benefit for the participant's career.
This Briefing Report is based on the CS Track Public Deliverable 4.2 entitled White paper: Themes, objectives and participants of citizen science activities.
Additional statistical evidence comes from the first analysis of the results of the large-scale survey into Citizen Science project participation carried out by CS Track in early 2021, complete results to be published shortly.
For more information
References
Photo by Jonathan Cooper on Unsplash