CS Track European project
CS Track is broadening our knowledge about Citizen Science by investigating Citizen Science activities, disseminating good practices and formulating knowledge-based policy recommendations to maximise the potential benefit of Citizen Science activities on individual citizens, organisations, and society at large.
Read more about our research approach.
CS Track Research Approach
It is not easy to explain the term "citizen science". Just to give a few examples: It can refer to crowdsourcing activities such as collecting weather data, to spotting animals in an online video, deciphering handwritten historic documents, solving scientific puzzles or making experiments in your garden, but also to formulating research questions and even to setting research agendas, developing robotic prototypes or conducting practical science projects in schools. The disagreement on what the term actually refers to, is puzzling. CS track investigates what activities are called citizen science and by whom? What are their societal, economic, educational and scientific impacts? Who participates in such projects? How and why? What are the (dis)incentives and rewards for all participants? What enables citizen science, what creates barriers in citizen science, and what are its limits? There is already some literature available on several of these issues, however, mostly limited to research on specific projects and initiatives. Analyses across a broader range of projects are still missing. CS Track aims at narrowing this considerable knowledge gap by conducting research on these issues and others across a broad range of projects across the European Union, Associated Countries and beyond. The research output, identified common practice and recommendations for future citizen science projects are discussed by citizen science initiatives on a web portal developed in the frame of CS Track. CS Track combines methods of social sciences, the humanities and computer sciences. It (1) reviews literature on citizen science – by scientists, policy makers, funders and interest groups, among others – and conducts expert interviews on open issues, (2) compiles a database of citizen science projects and conducts semi-structured interviews to explore projects that have been selected by drawing lot, (3) analyzes digital manifestations and traces of citizen science projects, and (4) conducts online surveys.
Investigate a large number of Citizen Science activities
CS Track will observe and carry out analyses on a large number of different citizen science activities in order to increase knowledge about what makes such activities successful in response to a given set of research questions.
Provide useful tools to measure and analyze Citizen Science activities
CS Track will provide web-based and other tools and frameworks for analysing citizen science activities in a wide variety of settings that can be used by the stakeholder community.
Share information, analysis and tools
CS Track will share the knowledge and resources it creates along with well researched recommendations to the wider citizen science community through an online community, publications, events and other means.
The Latest News and Events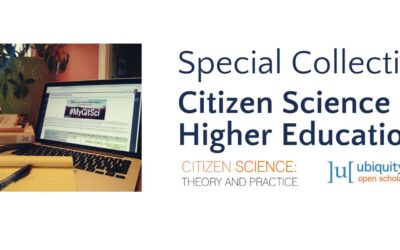 Citizen Science: Theory and Practice journal has just released a new special collection on citizen science in Higher Education. This special...
Contact Us
All enquiries about our work and outputs are most welcome. Please use the following email address if you would like to contact us and we will make sure that your enquiry is directed to the most relevant CS Track partner.
Email Address
info@cstrack.eu